Palo Alto Office
105 Addison Ave.
Palo Alto, CA 94301
(650) 407-2922
Monday–Thursday: 8 a.m.–6 p.m.
Friday: 9 a.m.–4 p.m.

Los Gatos Office
326 Village Ln
Los Gatos, CA 95030
(408) 402-3220
Monday–Thursday: 8 a.m.–6 p.m.
Friday: 9 a.m.–4 p.m.

The IO Clinic
999 Alma Street
Palo Alto, CA 94301
(650) 327-3232
Monday–Thursday: 9 a.m.–6 p.m.
Friday: 9 a.m.–5 p.m.

Kybella®
Treating Double Chins in San Francisco
Kybella® is one of the newest cosmetic treatments to come to the San Francisco area, which is big news for anyone who struggles with excess fat that accumulates beneath their chin. The technical term for the result of these unwanted pockets of fat is "submental fullness," but patients tired of seeing what most people refer to as a double chin are likely less interested in what to call it, and more interested in how to get rid of it.
Kybella®

Before & After Photos

Before & After
Kybella Reduces Submental Fat
This young woman from San Jose came to us because she had recently lost a lot of weight but the excess skin on her neck was hanging on. With a few injections of Kybella, her submental fat was greatly reduced which made her weight loss more apparent. She is thrilled with her new look and confidence.
Read More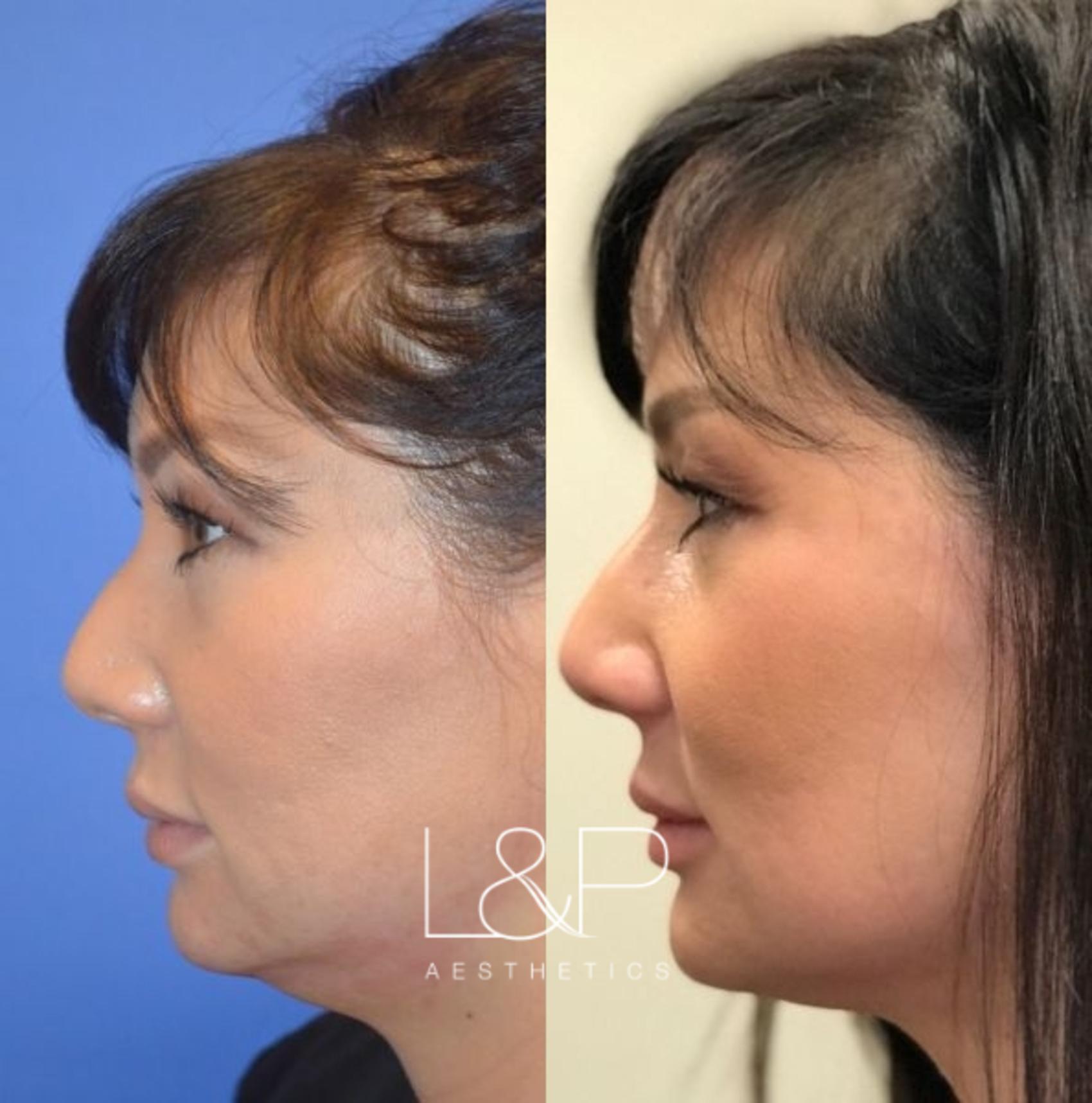 Before & After
Kybella To Chisel Jawline
Our fabulous Aesthetician from Fremont has always been bothered by the fullness under her chin. No matter how much dieting and exercise she did, she could not get rid of this fullness. Two months after one round of Kybella injections, she noticed a considerable difference and now really likes her jawline.
Read More
Keep in mind that each patient is unique and your results may vary.
While neck liposuction can remove some small amounts of fat to create a more defined jawline, not everyone wants to undergo surgery to get the contours they desire for their chin. Kybella® is a medication introduced by a simple injection, and it begins working quickly, making it ideal for patients looking to improve their appearance with minimal subsequent down time or a recovery period.
Find out more about Kybella® in San Francisco and the surrounding Bay Area. Request your consultation online or call (650) 407-2922 to schedule an appointment to see us in our Palo Alto or Los Gatos offices.
Meet Our Surgeons
Get to know our world-class, board-certified facial plastic surgeons, known for the precision of their work and consistently satisfied patients.
What is Kybella®?
Kybella® is a prescription injection made up of deoxycholic acid, a clear fluid that ruptures fat cell membranes. Deoxycholic acid is naturally present in the body and plays a role in managing fats. When used in Kybella®, it selectively targets the problem behind submental fullness, disrupting the cells and releasing the fat to be naturally absorbed and eliminated from the body. Unlike fat cells that shrink due to diet or exercise, but can grow again if given the opportunity, fat cells successfully treated with Kybella® are no longer a concern.
The FDA approved Kybella® in April 2015, allowing it for use in adults who want to reduce moderate to severe fat sitting below their chin. This is typically fat that can resist healthy diets and consistent exercise, clinging to the neck area despite a patient's best efforts to lose it.
Lieberman & Parikh Facial Plastic Surgery
Reveal the best version of you with surgical procedures performed by Stanford-trained facial plastic surgeons. Whether you're looking to repair, refresh, or rediscover your appearance, our experienced team is ready to make it possible.
Rejuvenate Your Look With a Facelift
Harmonize Your Features With Rhinoplasty
Awaken Your Eyes With Blepharoplasty
Learn More
Real Patient
How is Kybella® Administered?
Your doctor will inject Kybella® into key areas where submental fullness is evident. Every patient's anatomy is unique, so there is no set number of injections that provides universal results. In general, you can expect multiple injections distributed beneath your chin in a single, 15- to 30-minute session. The number of injections usually decreases with each subsequent treatment.
To achieve your desired results, you may need to have two or four sessions total, each separated by about two months. This is the time frame in which many patients begin to notice a change to their chin profile, though the doctor may recommend six sessions in certain cases.
Real Patient
Save Money, Join Allē
Become a member to earn points and redeem rewards on your favorite Allergan brands such as BOTOX®, JUVÉDERM®, and more.
Apply Now
How Does Kybella® Differ from Ultherapy®?
Ultherapy® is another popular method for reducing the appearance of fullness beneath the chin and elsewhere, though it doesn't attack any fat cells, but tightens loose and sagging skin by using sound waves (microfocused ultrasound) to trigger healing processes in deep tissues. Kybella® directly impacts the fat itself to get rid of bulges, and is currently approved only for fat that causes submental fullness.
Note that Kybella® is not a skin-tightening treatment. Talk to the team at Lieberman & Parikh Facial Plastic Surgery to discover the details of fat removal treatments, skin tightening procedures, how they interact, and what the best combination could be for you.
Learn more about Kybella® in San Francisco, available at Lieberman & Parikh Facial Plastic Surgery. Call (650) 407-2922 to find out what can be done about your double chin.
Back to Top