L&P Aesthetics
105 Addison Ave.
Palo Alto, CA 94301
(650) 327-3232
Monday–Thursday: 8 a.m.–6 p.m.
Friday: 9 a.m.–4 p.m.

Earlobe Repair
For centuries, earrings have been worn to enhance one's beauty and appearance. Over time a piercing site can stretch from years of wearing heavy jewelry. On occasion, a person may suffer a tear in the earlobe, resulting in a cleft or a split in the lobe. This can lead to discomfort and self-consciousness, as well as the inability to wear earrings. Split earlobe repair can allow you to feel more confident and wear your favorite jewelry again.
In addition, as we get older, our earlobes continue to stretch and elongate, sometimes noticeably. You may simply want a smaller earlobe that would be in better proportion with your ear and the rest of your face. This can also be accomplished with surgery.
Earlobe Repair

Before & After Photos

Keep in mind that each patient is unique and your results may vary.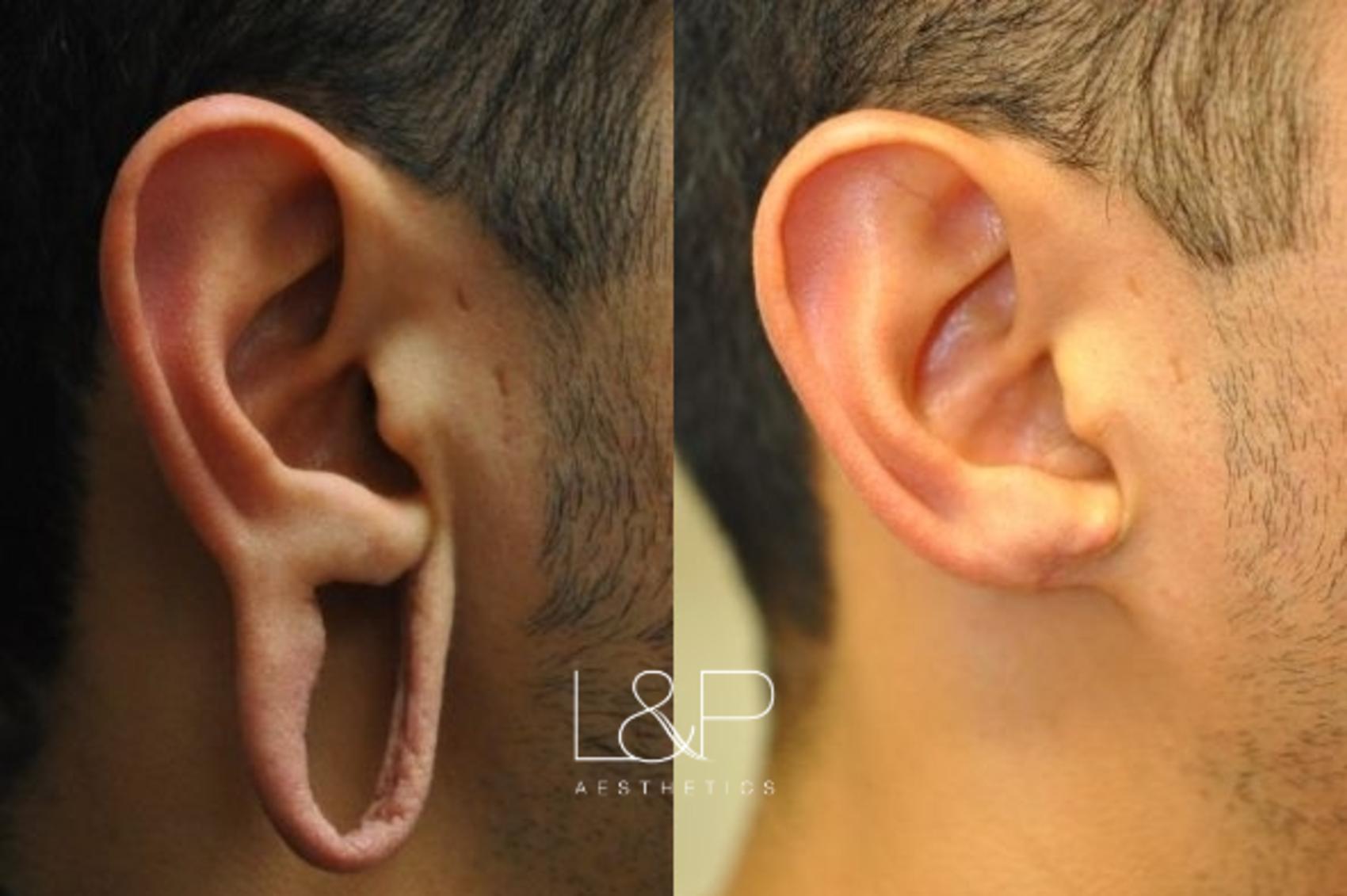 Before & After
Case #67
A former musician from San Francisco, this patient came to Drs. L&P with very large guage earring holes that left him feeling self-conscious. He was looking to advance his new career in business with a more professional look, so Drs. L&P restored his earlobes by removing the scar tissue and stitching the sides back together, leaving o...
Read More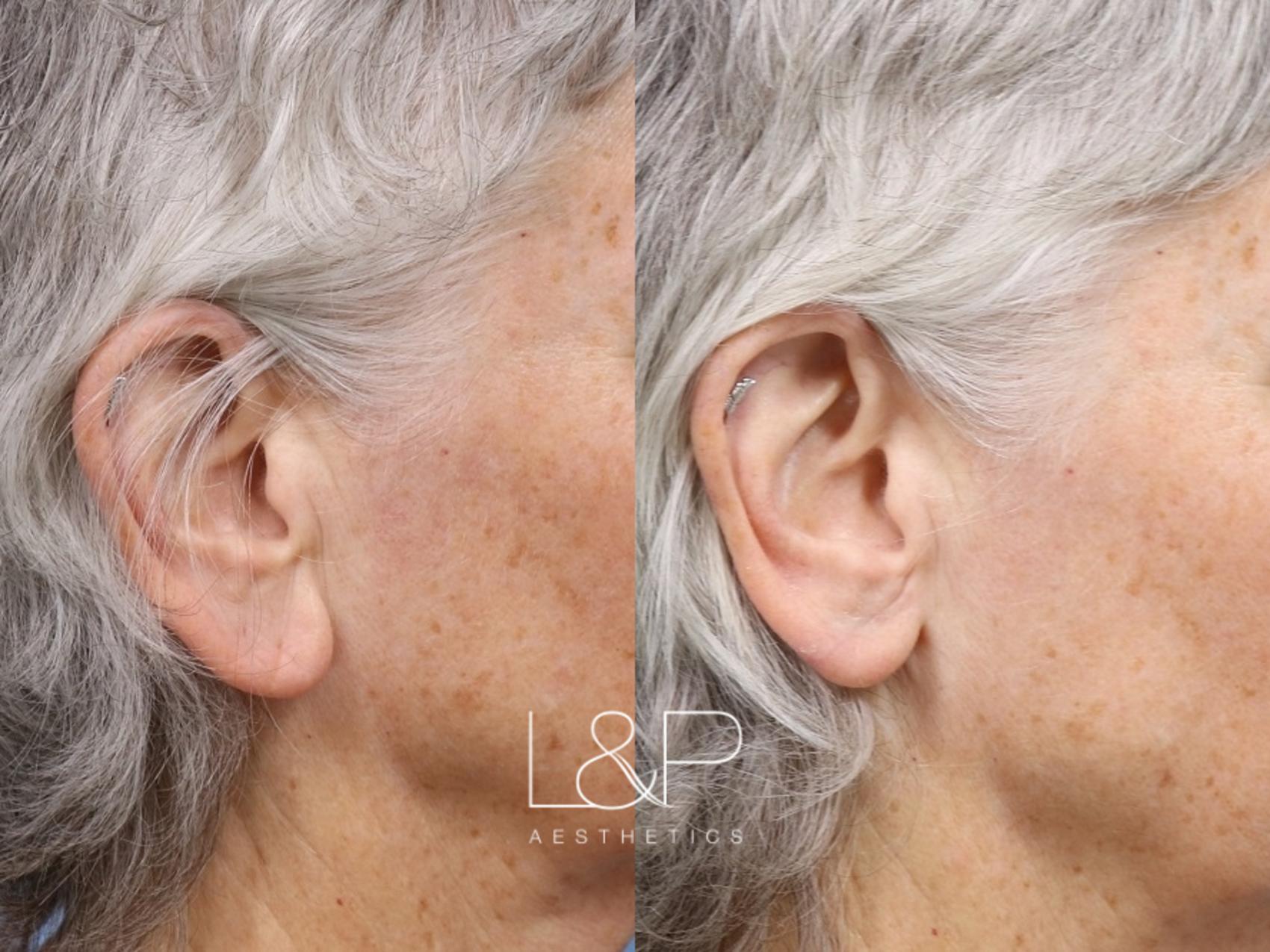 Aging contributes to earlobe sagging, which can be fixed in a short procedure.
L&P Earlobe Repair for Aging Ears
Earlobe repair is a minor procedure that Drs. Lieberman and Parikh perform on a weekly basis. It is common for women to notice their earlobes sagging as they age, due to heavy earrings throughout the years. This minor procedure can do wonders for patients that are unhappy with their earlobes.
Read More
Keep in mind that each patient is unique and your results may vary.
Pre-Operative Process
Am I a candidate for split earlobe repair?
You may be a candidate for earlobe surgery if the appearance of your earlobe draws unwanted attention, detracts from other facial features, or if you generally don't find your earlobe shape to be attractive. Common reasons for seeking out this type of surgery:
Split earlobes
Stretched or elongated piercing holes from jewelry or gauged ears
Elimination of a piercing
Our Surgeons
A Partnership for the face
Discover unparalleled skill, expertise, and aesthetic artistry. Trust an award-winning partnership for the face. Learn more about the world-class duo of double board-certified facial plastic surgeons that makes L&P Aesthetics incomparable.
Dr. Lieberman
Dr. Parikh
Technique
How is this surgery performed and what should I expect after my split earlobe repair?
Split earlobe repair is performed under local anesthesia in the office. A small tape bandage is worn for seven days. Sutures are removed five and seven days after the procedure. Re-piercing is performed six weeks after the procedure and is part of the repair package, if desired. Doctors Lieberman and Parikh will make recommendations about earring materials for piercing to minimize the chance of recreating a deformity.
Because a local anesthesia is used, it will not be necessary to have someone drive you home. You will be able to resume your usual activities the day following your surgery. We have provided split earlobe repair before and after photos of our patients to help you visualize the possibilities.
Request your consultation online or call (650) 327-3232 to schedule an appointment to see us in the Bay Area in our Palo Alto office.
Back to Top