Palo Alto Office
105 Addison Ave.
Palo Alto, CA 94301
(650) 407-2922
Monday–Thursday: 8 a.m.–6 p.m.
Friday: 9 a.m.–4 p.m.

Los Gatos Office
326 Village Ln
Los Gatos, CA 95030
(408) 402-3220
Monday–Thursday: 8 a.m.–6 p.m.
Friday: 9 a.m.–4 p.m.

The IO Clinic
999 Alma Street
Palo Alto, CA 94301
(650) 327-3232
Monday–Thursday: 9 a.m.–6 p.m.
Friday: 9 a.m.–5 p.m.

Ultherapy®
L&P Aesthetics offers Ultherapy to our Palo Alto and Los Gatos patients from San Jose and across the San Francisco Bay Area who want a nonsurgical option for firmer, uplifted skin. Ultherapy is an FDA-approved, non-invasive skin tightening treatment that uses focused ultrasound waves and the body's own natural healing process to lift and tone lax, sagging skin. It specifically targets the deep tissues below the skin that are typically addressed in a facelift, brow lift and/or neck lift—without surgery. Following treatment, the skin continues to firm up over time.
Ultherapy®

Before & After Photos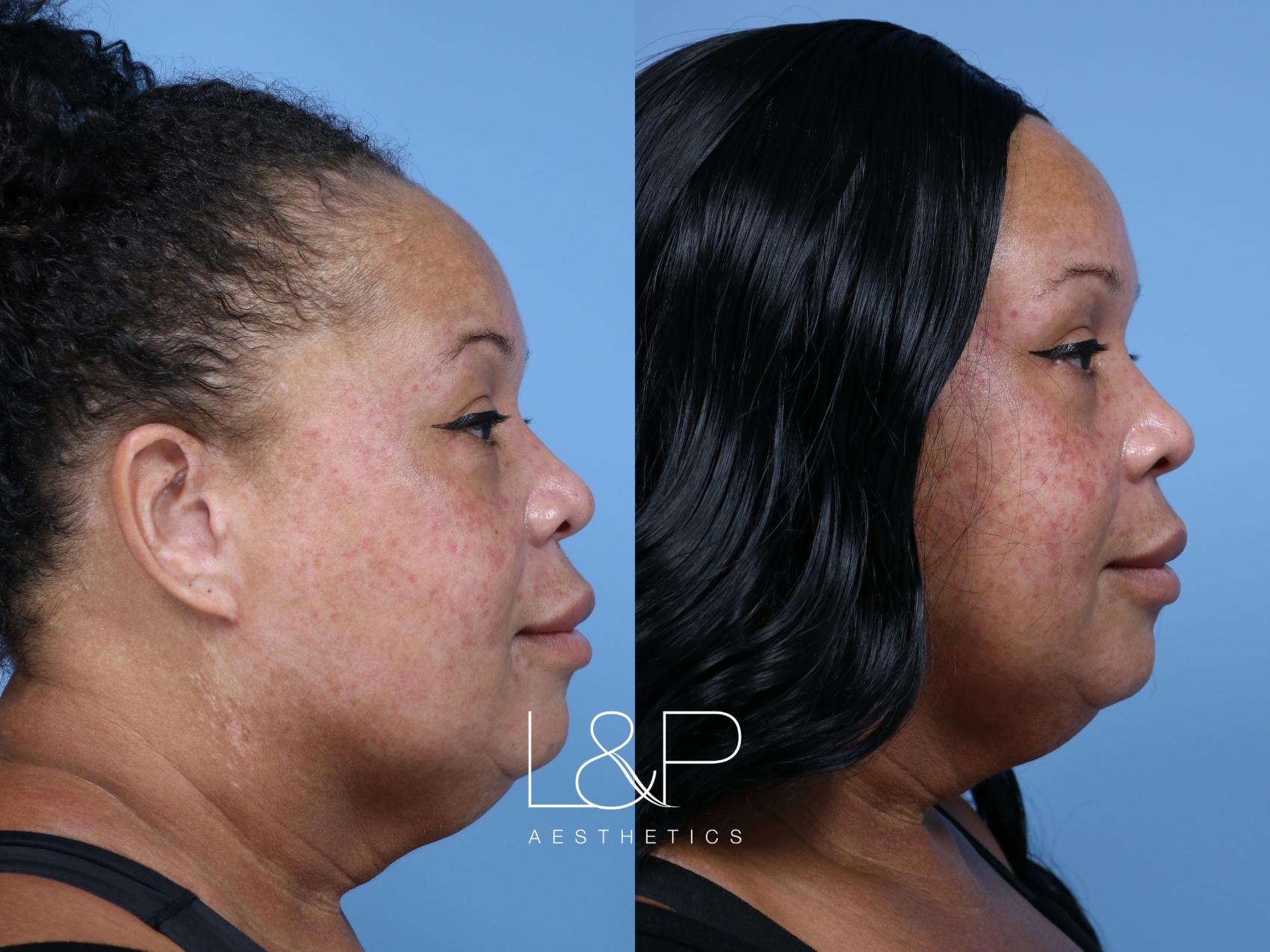 Before & After for Ultherapy, which is a nonsurgical treatment.
Ultherapy to target neck laxity
Ultherapy is a great treatment for the right candidates that are looking to refresh their lower face and neck, but are not quite ready for surgery.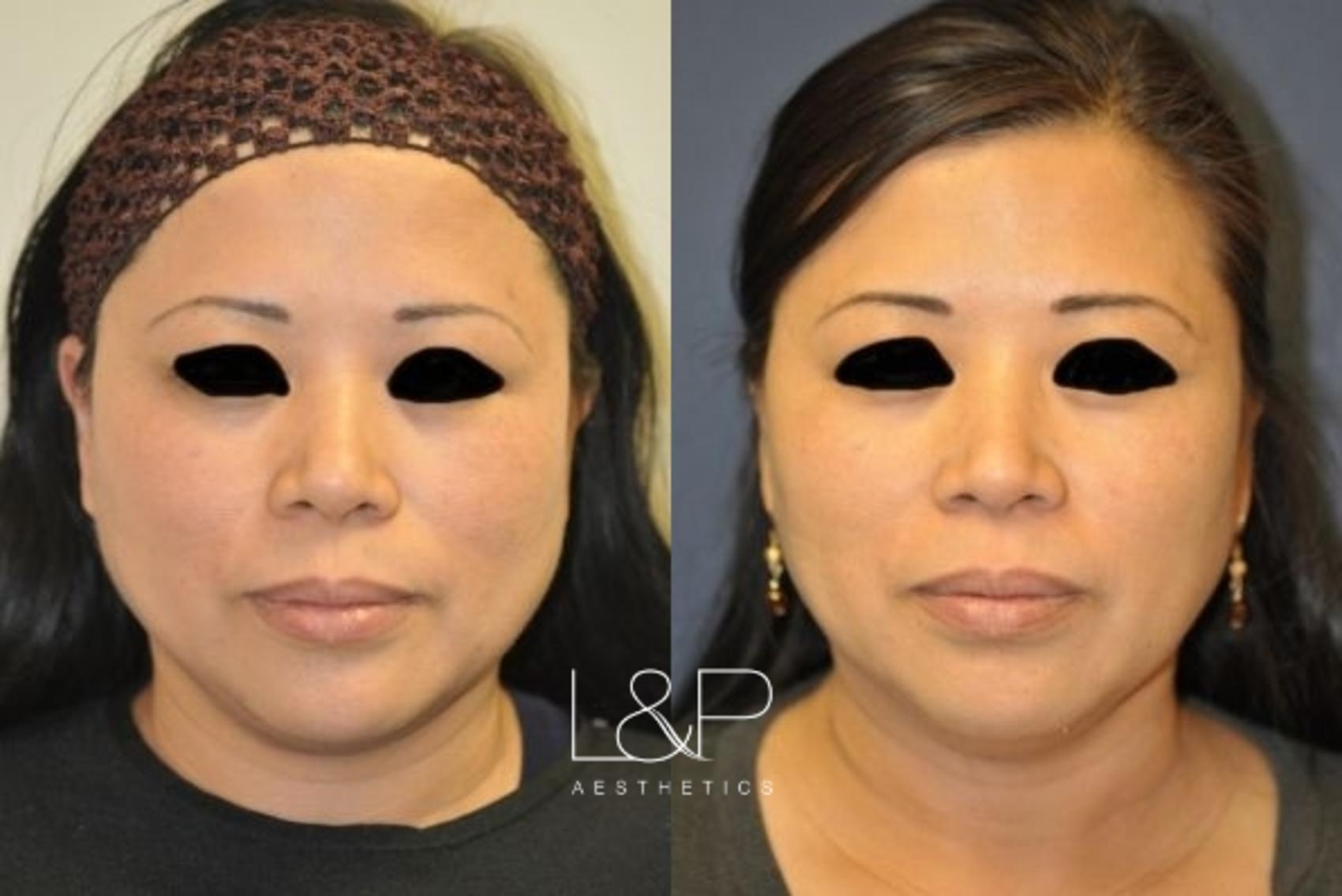 Before & After
Ultherapy® Non-Surgical Facelift and BOTOX®
This woman in her late 40s visited our Palo Alto office from the East Bay of Northern California. She wanted to discuss non-surgical options for improving the fullness under her chin and tightening and lifting the skin along her jawline. This case study was interesting because she is a busy executive and could not afford any downtime. We had...
Read More
Keep in mind that each patient is unique and your results may vary.
This unique technology uses ultrasound imaging in real-time, which allows us to actually see the layers of tissue being targeted during treatment and guides the energy to be delivered precisely where it will be most effective. With Ultherapy, there's no downtime and the change is subtle, providing a healthy revitalization of tissue on the inside for a natural, noticeable effect on the outside. The beauty of Ultherapy is that you can go about your day after a single 60- to 90-minute in-office procedure.
For patients who are interested in combining Ultherapy with additional anti-aging interventions, we also offer what is often termed a liquid facelift (non-invasive facelift, non-surgical facelift) which is a combination of muscle relaxing agents, such as BOTOX® Cosmetic, Dysport®, or Jeuveau™ and dermal fillers, such as JUVÉDERM® or Restylane®. These agents are used selectively depending on what you want to accomplish.
Meet Our Surgeons
Get to know our world-class, board-certified facial plastic surgeons, known for the precision of their work and consistently satisfied patients.
Ultherapy Candidates
A good candidate for Ultherapy is someone with skin laxity and/or sun damage that would be considered mild to moderate. Patients with excessive skin laxity or considerable sun damage may not be good candidates.
While Ultherapy is not a replacement for facelift surgery, it can be helpful to patients who want to look more refreshed and toned with some lifting, but are not yet ready for a surgical procedure. Younger patients may also want to retain their youthful appearance before significant aging occurs, and they are also excellent candidates for the procedure.
Lieberman & Parikh Facial Plastic Surgery
Reveal the best version of you with surgical procedures performed by Stanford-trained facial plastic surgeons. Whether you're looking to repair, refresh, or rediscover your appearance, our experienced team is ready to make it possible.
Rejuvenate Your Look With a Facelift
Harmonize Your Features With Rhinoplasty
Awaken Your Eyes With Blepharoplasty
Learn More
Real Patient
Your Ultherapy Treatment
During your consultation, we will take the time to discuss your motivation for seeking rejuvenation of your face, neck, or brow. We will then perform a detailed examination of the components of your face and its underlying structures.
After taking photos, we will likely use cutting-edge digital morphing software both as an educational tool and to create an individualized approach to your enhancement. After your consultation, we will work with you to decide on a treatment plan based on which areas are to be addressed.
Now Offering Coolsculpting®
Ready to reduce the bulge? We're now offering CoolSculpting, the number one fat eliminating treatment on the market.
Learn More
Real Patient
Recovery & Results
The entire Ultherapy treatment experience lasts 60 to 90 minutes. There is no downtime, and patients can return to work right away.
Results will develop over the course of 2 to 3 months, though some patients have reported continued improvement for up to 6 months, including lifting of the skin on the neck, under the chin, jawline and on the brow. While Ultherapy does not duplicate the results of a facelift, it has proven to be an inviting alternative for those who are not yet ready for surgery.
Our core objective is to provide a safe, comfortable experience that restores your appearance and produces natural-looking results.
If you would like to learn more about Ultherapy in Palo Alto or Los Gatos, please request your consultation online or call (650) 407-2922 to schedule an appointment with us here in the San Francisco Bay Area.
Back to Top